Man Fought His Foreclosure For More Than Two Decades Without Paying A Penny Is An American Hero!
A Long Island man fought his foreclosure for over two decades. Unfortunately, he lost the battle. The property owner has evicted him from the property. Guramrit Hanspal became known as America's Most Famous Squatter by the lending industry. He has fought nearly 7 different mortgage servicers since 1998. He also did it without making a single mortgage payment on the house. 
Nassau County Sheriffs Deputies locked Hanspal out of his home Friday morning.
The Nassau County Sheriff Department has attempted to evict Hanspal several times over the years. They arrived at the house before 8 am on Friday with movers and a locksmith.
The deputies knocked on the door and entered the Kenmore Street home when no one replied. Over the course of about three and a half hours, the movers cleared out the contents of the home. They loaded everything from a stained couch and a stove to a child's electric truck into their vans.
Diamond Ridge Partners bought the home in May 2018. The owners placed everything in storage for 30 days. 
It is unclear where Hanspal is currently living.
On September 14, 2021, Nassau County Judge William Hohauser ruled that he does not qualify for COVID protections. Hohauser ruled that because Hanspal is an illegal squatter and not a renter.
Authorities attempted to evict Hanspal on October 29th and brought a UHaul truck. However, he avoided the eviction.  
A half dozen lenders have tried to kick the 52-year-old from the home. The now-defunct Washington Mutual initiated the foreclosure in 2000. Hanspal managed to drag out the foreclosure and eviction by drowning the servicers in legal actions and exploiting court rules to his favor.
Tenants Jump In On The Fight But Are They Real?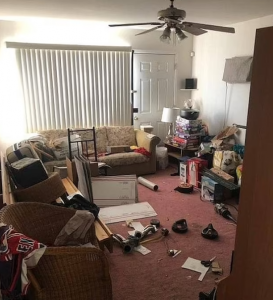 Hanspal's tenants in the home also filed bankruptcy claims and other legal actions to stop paying rent.
Court records show Parmjit Puar filed an emergency claim last month stating, "He had nowhere to go. Please stop eviction for 30 days only."
Judge Hohauser held a hearing 19 days later. However, Puar didn't show. Hohauser noted that the residents of the Long Island home 'never appear' in court. "I don't even know if he actually exists." 
Hanspal and another resident, Bhagwant Srichawla, filed COVID-19 Hardship Declaration 7 months ago.
Several months later, Srichawla lost control of his 2008 Subaru Legacy. He was killed at the scene.
Hanspal's lawyer attempted to use the death in court arguing that his estate should qualify for eviction protection. 
Hanspal claimed he was diagnosed with Covid-19 in August. As a result, he suffered a financial hardship.
But in his September 14 ruling, Judge Houhauser said that the declaration did not apply to Hanspal because he is more of a 'squatter' than a tenant, the Post reported.
Hohauser ruled that Covid-19 protections do not apply to Hanspal:
The protections of the COVID declaration would inhere to tenants. But not to those who have no financial obligation.
In other word, Hohauser ruled Hanspal was a squater not a tenant. Therefore, Covid-19 restrictions do not apply to him.
How A Man Fought His Foreclosure For 23 Years
Hanspal bought the house at 2468 Kenmore Street for $290,000 in 1998. He made only one mortgage payment of $1,602.37 before defaulting.
Washington Mutual tried to foreclose on Hanspal after the foreclosure in 2000. However, he filed two bankruptcy in 2001. He then filed 2 more in 2002 and one in 2003.
It's unclear how Hanspal was able to file bankruptcy so many times.
Washington Mutual going into FDIC receivership in 2008 also gave Hanspal another delay.
JPMorgan Chase took over Washington Mutual's assets including the Hanspal's mortgage. Chase tried to foreclose and and evict Hanspal. However, he filed three lawsuits against Chase in Nassau Supreme Court.
When Diamond Ridge bought the home from Chase in 2018. The company offered Hanspal $20,000 to leave. He refused the offer. Diamond Ridge spent $150,000 in continued foreclosure litigation. They also had to pay $50,000 in property taxes.
Hanspal has used every loophole in the book – from hiring lawyers at the last minute to drowning the courts in legal action.
The COVID-19 pandemic clogged New York's housing courts because of the pause in cases. This bought Hanspal more time.
Owners Have Pending Sale On The Property
Diamond Ridge has a sale pending, which gave an inside look into the house.
Zillow has the listing on Zillow saying the sale is pending. However, the sale hasn't closed yet.
The Zillow listing showed the home listed for $399,000. However, the listing noted the requirement for a cash offer only. 
The Zillow pictures give a peek inside the home that Hanspal clung onto for so long.
It appears Hanspal hasn't properly maintained the home in the 23 years he's lived there. Photographs show a filthy bathroom. A living room and dining room and strewn with garbage.